RAVPower 26800 Portable Charger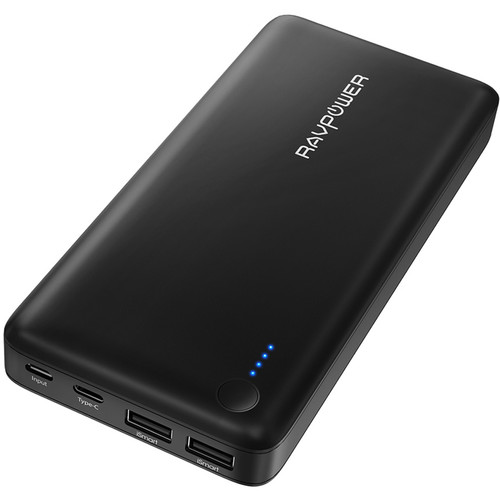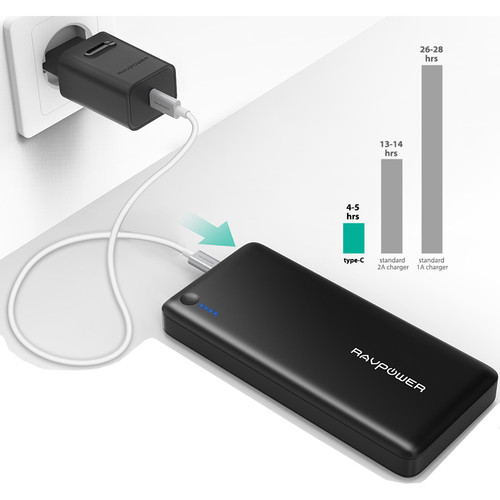 Power Bank RAVPower 26800 Portable Charger 26800mAh Total 5.5A Output 3 USB Ports Battery Pack (2A Input, iSmart Technology 2.0) External Battery for iPhone, iPad, Galaxy S8 and other Smart Devices
The 16750 mAh RavPower only has 2 ports (2.4 amp and 2.1 amp) while the 26800 mAh has 3 ports (2.4 amp, 2.1 amp and a 1.0 amps). If my phone gets too low during the day what I do is put one of these chargers in my back pocket with the my phone in my other back pocket and plug the phone in and let it charge while I'm doing things. The 16750 will charge an Iphone 6 times and an Android 4 while the 26800 will charge an Iphone 10 times and an Android 6 times, and if you only charging one device make sure you use the 2.4amp port it charges quick, I've charged my Galaxy S5 from 15 percent to 100 percent in about one hour.
These things will also charge Gopros, video cameras (but only if it's input power is 5 volts dc as mine is) to check yours just check the supplied 110 volt AC charger/power adapter and see what's its output voltage is.
They not only charge these devices but they will also allow you to use them as power supplies and right about now you are probably saying that's the same thing as charging them and you would be correct, I was only putting that out there just in case no one had thought about that. Many times I have forgotten to charge one of these devices so I just used the RavPower bank as my power supply.